Interested in working with us at Nabby this Summer?
We are extremely proud of our all-star staff, a dedicated team of professional educators and students who love working with children and spending memorable summers at Nabby.
Many of our staff grew up at Nabby as campers and have returned to provide the same, positive camp experience for the next generation. All staff members participate in extensive training before and during the camp season in safety, child development and upholding Nabby values. This training, along with our excellent camper-to-staff ratio, creates an environment of individualized attention and support for each child.
As a member of our team, you will enjoy the rewards of working with incredible children alongside the best counselor teammates. You will become part of our Nabby family, develop lasting friendships and build strong character and interpersonal skills to best prepare you for your future. You will look forward to each day, filled with new adventures and challenges as you learn and grow alongside our Nabby campers. We hope you will join us!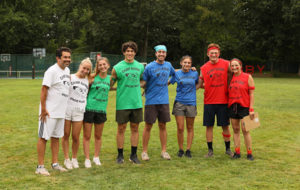 2022 Camp Dates
Monday, June 27 through Thursday, August 18
Camp Hours
Monday through Friday – 8:30 am to 4 pm
Frequently Asked Questions
What are the benefits of being a camp counselor?
A: Working at Camp Nabby provides tremendous life skills and benefits for you!
You will gain valuable professional skills including communication, collaboration, critical thinking and creativity! These are essential for future success and coveted by employers
You will practice valuable leadership skills, engage in decision making and mentorship
You will personally benefit from the unique feeling of satisfaction that results from being a positive influence in the development of children.
You will likely discover new interests, meet new friends and gain new skills.
You will spend the summer outdoors and will engage in physical and social activities that promote a healthy lifestyle.
You will benefit from a personal letter of recommendation from our Director (if asked); interact and network with a variety of people who can help you with future opportunities
What skills are you looking for?
The skills that make a successful counselor at Nabby are:
The ability to work well with children of all ages and backgrounds.
The belief that you can make a difference in the life of a child.
The willingness and ability to foster self-esteem, confidence, active participation, responsibility and FUN!
A love of the outdoors – in all weather conditions.
The ability to motivate and inspire young people as a positive role model
Creativity, enthusiasm, patience, kindness, cooperation and team spirit.
The willingness to pitch-in and go the extra mile…
What are the time requirements for the summer?
A summer at Camp Nabby lasts eight weeks. We expect all staff to be able to work the entire length of our summer program. If you need time off for personal reasons (doctors appointments, college orientation etc) we ask that you advise our Camp Director ahead of time and in writing.
All staff members will also be required to attend pre-camp staff orientation meetings. These meetings are mandatory! Our camp day begins at 8:30 am and ends after the last bus departs from camp at approximately 4:00 p.m. Staff leave camp after their campers have left.
We are looking for teachers and college-age counselors to join our all-star staff. If you are interested in working with us next summer, apply below!
Apply Now!
From camper to counselor, some of my best...
"From camper to counselor, some of my best childhood memories were made at Camp Nabby!  It does not come as a surprise that physical activity, creative play, and joyful learning are all the things that were part of my summers at Camp Nabby and continue to be part of my speech and language practice today"  — Alison M 
Nabby has provided me with valuable...
"Nabby has provided me with valuable life lessons and working with children has been incredibly rewarding and fun.  The counselors are engaged and active and I have made life-long friendships working here.   I look forward to returning every summer!" — Luke B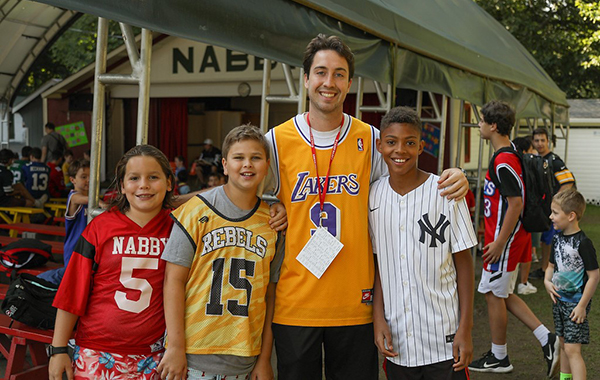 Group Head Counselors
Group head counselors are responsible for supervising an assigned group of children, interacting with program directors and specialists, and communicating with parents. In addition, these counselors are tasked with supervising their assistant counselors and CIT's and/or LIT's (depending on the group). Group heads embody our philosophy and are constantly encouraging and coaching campers to succeed. All group heads have prior experience working with children and many are certified educators.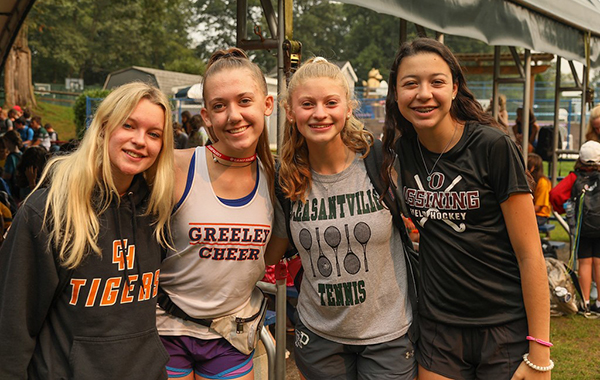 Assistant Counselors
Assistant counselors are expected to provide support for their supervising group head counselors at all times. In addition, assistants should bring a high-energy level to all activities, actively encouraging and participating when appropriate.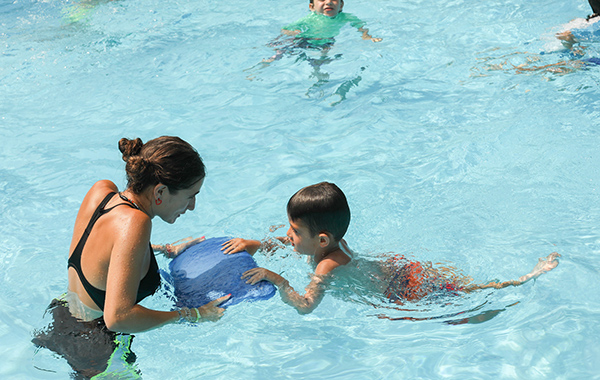 Specialty Counselors
Specialists at Camp Nabby are individuals who provide teaching and coaching in a specific sport or activity, including: art, music, nature, gymnastics, swimming, tennis and challenge course. Upon arriving at a specialty area, campers will be instructed by the specialist staff – who will require participation and support from the group staff.
Equal Opportunity Employer
In accordance with applicable federal laws, Camp Nabby is an equal opportunity employer and will not discriminate against any employee or applicant on the basis of age, color, disability, gender, national origin, race, religion, sexual orientation, veteran status, or any classification protected by federal, state, or local law.
Camp Nabby does not discriminate against any person on the basis of gender identity or expression, or transgender status.