About Pre-K
Our co-ed Pre-K program gives 3  to 4 ½ year olds an opportunity to discover all the fun and excitement of summer camp while developing their social skills and self-confidence.
We provide young children an opportunity to participate in the fun and excitement of a full summer camp experience while promoting their social skills and self-confidence under the supervision of our mature staff.
Our youngest campers enjoy our heated, small pool twice each day — with focused instruction in the morning and "free" swim in the afternoon.  Sports activities for this age group also include soccer, floor hockey and other ball skills, which take place on our fields and courts scaled for age appropriateness.  Specialized programs include nature, aerial adventure, arts & crafts, music and gymnastics, all of which are taught by our specialty counselors.  From morning drop-off through dismissal, our campers are always under the close supervision of our mature, superbly trained staff.
Supervision
We require a certified elementary school teacher to lead our Pre-K group. In addition, we make sure to maintain a 4:1 camper-staff ratio to ensure that each child is cared for and nurtured throughout the day. This ratio is even higher during swim periods where we have certified swim staff on duty at all times.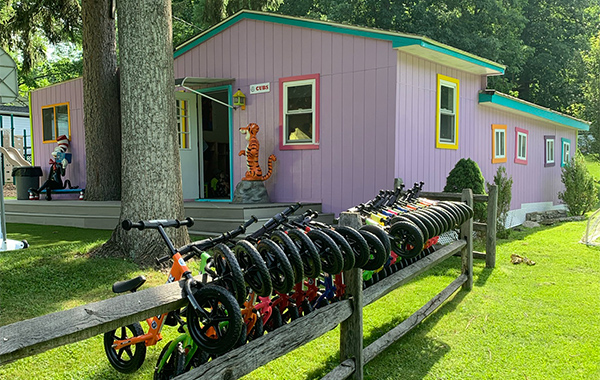 The Cubhouse
The Cubhouse is a wonky-looking building that's filled with enough personality to match our littlest campers.  As the home base for our youngest campers, the Cubhouse features a private, size-appropriate bathroom and group changing room with stalls for each camper to keep their Nabby bag and personal belongings.  And sometimes, when it rains, we use it to watch movies and tell stories!
Schedule
A day in the life of a Pre-K camper is never dull! From morning instructional swim in our heated 1 to 3-feet deep small pool to field games, specialized activities, and afternoon free swim, our youngest campers have the opportunity to do just as much as everyone else at camp. But don't worry, we always make time for a snack, a rest, or even a nap.