Say Hello!
Joe & Rita Bertino are the fun-loving directors behind Camp Nabby.
They work year-round to make Camp Nabby very best summer day camp for kids—and parents too!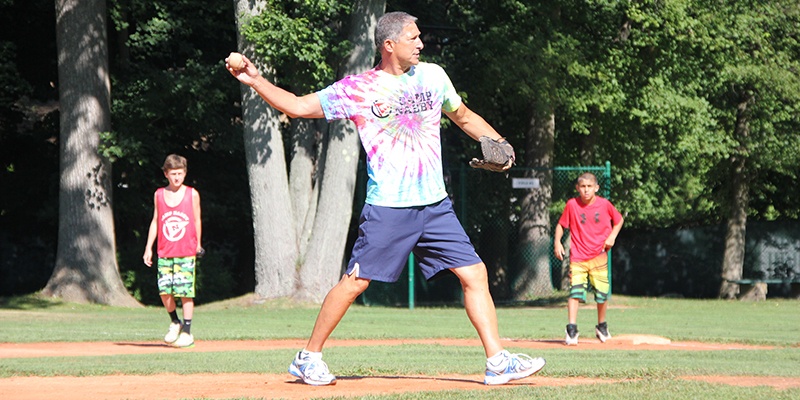 Joe Bertino, Owner/Director
Joe Bertino has been the executive director of Camp Nabby since 1997. In that time he has worked tirelessly to develop the best camp facilities, staff, and curriculum in Northern Westchester. Add to that his 35 years experience as a physical education teacher and swim coach, Joe's lifelong dedication to improving the lives of children is simply remarkable.
Joe began his career at Nabby in 1970, when his parents Frank and Flo Bertino purchased the camp and became directors. As a young adult, Joe spent all his summers at Nabby and became immersed in the camp experience. He utilized his expertise in physical education and child development to establish Nabby's educational philosophy and well-rounded summer program. He created a fun-filled, activity based schedule for campers having spent his life teaching and inspiring children of all ages, including his three sons – Frankie, Joe and Matt.
Alongside his wife Rita, with whom he shares a daily office, Joe strives to bring out the best in everyone associated with Nabby. He has cultivated and motivated a premier leadership team, specialty staff and counselors who all love working with children. He has developed custom programs and schedules specific to every age group, created fun and wacky themed days, introduced new games, and brought in entertainment performers for all Nabby campers to enjoy.
Having spent an incredible 50 years at Nabby, Joe has embraced everything that summer camp has to offer and takes tremendous pride in continuing the family legacy to create "happy campers". Camp Nabby means everything to Joe, and in turn, Joe means everything to Camp Nabby.
Fun Facts
Born: Port Chester, New York
Siblings: 3 sisters
School: Rutgers University (BA) & Lehman University (MA)
Guilty Pleasure: Ben & Jerry's Phish Food
Past: Afro
Future: Break 90 at Pebble Beach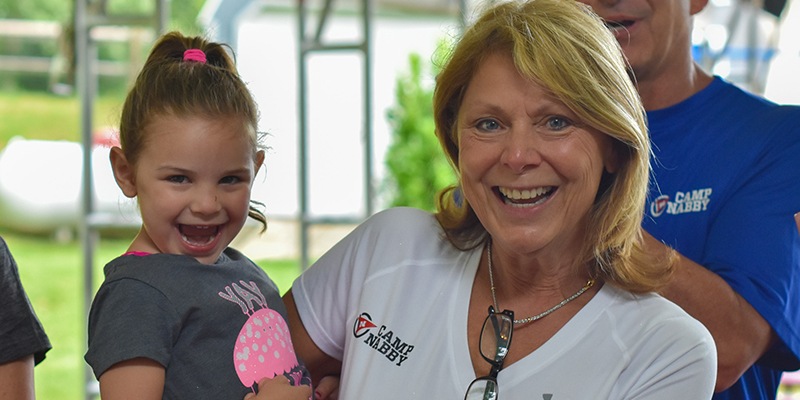 Rita Bertino, Owner/Director
After almost 40 years working in all facets of the camp business, Owner/Director Rita Bertino has done it all!
Rita started at Nabby in 1980 as a counselor and over the years, has worked as kitchen staff, receptionist, office manager, transportation director, parent liaison and surrogate mother to every child she's ever encountered.
With an empathetic ear, nurturing instinct, and outgoing personality, Rita enjoys spending time with the staff and interacting with parents and campers every chance she gets. She gets to know every family at camp and takes great joy in welcoming and spending time with as many campers as she can.
Together with her husband Joe and son Matt, Rita lives and breathes all things Nabby. While in the office or outside the camp grounds, Rita dedicates much of her time fostering relationships within the local community and establishing a personal connection with everyone she meets. You can often find her hosting events at Nabby or visiting with local business owners, government officials, community leaders and anyone else who will listen about the values and virtues of Camp Nabby.
Rita embodies the spirit of Nabby and is passionate about all that camp has to offer. In fact, she even coined the camp's catchphrase; "It's all about the kids." And with Rita, that's especially true.
Fun Facts
Born: South Bend, Indiana (Go Irish!)
Siblings: NINE! 8 brothers and 1 sister
School: Marymount College
Guilty Pleasure: The Voice
Past: Gardener extraordinaire
Future: Full-time foodie